Two marinas upgraded for modern times
Digital payment:
Two marinas upgraded for modern times
Yachting is an immensely popular sport in Southern Scandinavia. In the Summer season waters between Denmark and Sweden are scattered with hoisted white sails carrying the wind and wakes from boats on a course toward their next destination. The Viking heritage shows – these are nations of seafarers still.
The neighboring Danish and Swedish coastlines are heavily dotted with marinas often in proximity of each other with only a few nautical miles between them. Recently, two of the major marinas in the area started to modernize with digital payment solutions. With projects spanning 6-12 months both Ishøj Havn and the Royal Danish Yacht Club Tuborg Port chose Tallykey as their trusted partner in the process.
"Our customers are absolutely thrilled by the online service prospects. It's indeed comfortable for our yachtsmen to settle payments for electricity, shower, laundry, towing, boat berth, mast crane and storage facilities with only a few clicks on their screen or keyboard," says Frank Kercza Carlsen, the Harbor Master at Ishøj Havn.
In his marina, 83 T4 supply pedestals will be either replaced or upgraded with the TALLYWEB digital payment software. Each pedestal will be equipped with 6 power sockets offering all 550 yachts a separate power outlet.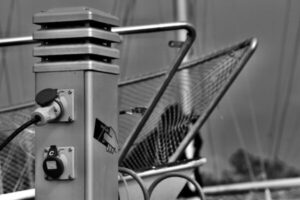 In research and project planning preparations lasting one year Frank Kercza Carlsen and the board found less expensive alternatives to the anodized aluminum T4 pedestal manufactured by Tallykey. Yet, high-quality and "daily operation costs level well below competition" had the final say in selecting a product.
"We anticipate significantly less future administration which is key for a tiny organization with only 3 employees. Further, we also expect our daily operation to be more profitable. We have eliminated losses in turnover as freebies failed to pay for their usage of utilities – whether forgetfulness, a payment machine being out of order or closing time at the harbor was to blame".
The online payment modernization process at Ishøj Havn began with national legislation offering marinas and camping sites government reimbursement for power distribution to customers. Like in many marinas worldwide the total utility consumption at Ishøj Havn has grown at a fast pace.
"Our marina is fully booked, currently with a 2-year waiting list. That adds on to a trend that yachts grow larger and become ever more well-equipped with refrigerator, electric stove, and ice maker. To many people, a yacht is an alternative to a countryside cottage," Frank Kercza Carlsen explains.
Upgraded T4 utility supply pedestals in Ishøj Havn will soon free its harbor master and his colleagues from a frequent task over recent years: Attending to tripped fuses. With 83 modern T4 pedestals in operation, power distribution is no longer overloaded.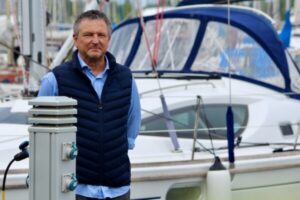 25 kilometers in a Northeasterly direction, Harbor Master Jeff Beck-Pedersen is busy with the digitalization of Royal Danish Yacht Club Tuborg Port:
"It started with a recent expansion of the outer basin with 11 new berths capable of handling 20–25-meter yachts and one single berth with 40-meter capacity. As part of the construction work, we decided to upgrade our T4 pedestals to TALLYWEB and digitalize utility payments".
According to Jeff Beck-Pedersen digitalization will cut loads of administrative burdens from the 12 employees including manual half-yearly meter readings and invoicing for 400 yachts. Digital self-service will make life easier for customers in the royal marina and ensure regular power usage is not distorted by freebie activity passing on costs to others.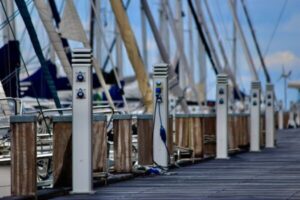 "Power will be our initial utility service. In the future, however, we plan to integrate a variety of services like cleaning maybe even entrance fee for nearby museums and tourist attractions," Jeff Beck-Pedersen explains.
With the expansion Royal Danish Yacht Club Tuborg Port will have 90 supply pedestals in total, likely to be fully implemented in the Winter 2022-23.
The digital payment solution market is vast.
"We chose Tallykey nonetheless. They are professional. There are no problems whatsoever – only solutions. It simply works. I am absolutely convinced we have partnered with the right supplier and found the best solution for the yachtsmen of Royal Danish Yacht Club Tuborg Port," Jeff Beck-Pedersen concludes.
Sign up for Tallykey's newsletter
…and receive lots of exciting news and case stories directly in your inbox