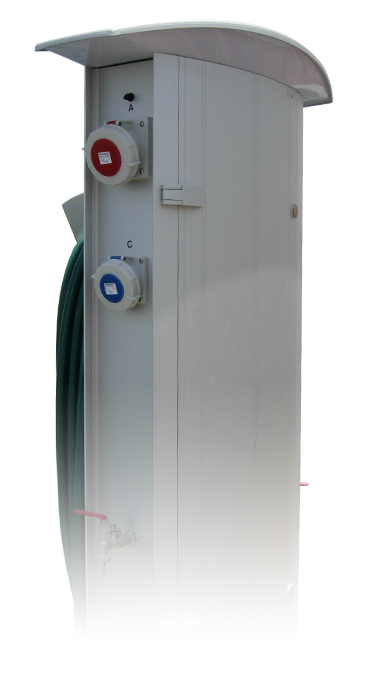 Tallykey T8 is our most powerful supply pedestal capable to deliver 900 amps. By all means T8 has the capacity to supply even the largest outdoor arenas, parking areas as well as superyachts with the power needed. T8 can be delivered with up to two water taps.
Despite its mighty powerful nature, the T8 supply pedestal is surprisingly elegant. At daytime adapting to its surroundings with the timeless Danish design – at night illuminating the area with built-in LED lighting. The rock solid quality of the T8 is the preferred choice for industrial ports, marinas and holiday resorts that must deliver safe and durable utilities for customers with exceptional power supply needs. Delivered from a modern and maintenance-free application with options for digital customer self-service.
Like the rest of the Tallykey pedestal family T8 is constructed in anodized aluminum and assembled with acid-resistant screws, shafts, and bolts.
The T8 pedestal is compliant with European Regulations as well as any local certification standards. All electrical units including relays, meters etc. are thoroughly protected behind aluminum and impact resistant plastic with all relays separated in closed circuits. With a capacity up to six power outlets mounted horizontal for space-saving and high usability. T8 can integrate with the TALLYWEB online payment system installed behind a storm proof auto-closing front lid. The push button control panel responding to one-time codes and a contactless card reader is intuitive and easy to operate.
The T8 has built-in energy-saving LED lighting placed under its curved Nordic design top providing a soft aesthetic atmosphere and reassuring safety in a maritime or holiday resort area.
Utility service users can register, measure, and pay for power as well as water consumption with hardly any administration for the business manager enabling you to strengthen the profitability of your business model. Data is communicated in real-time between supply equipment applications connected internally and remote locations can be interconnected to a single master system.
Our excellent customer service is another reason for ports, marinas and camping sites worldwide to choose Tallykey.
Let us find the right solution for you – call +45 9784 1277 or send us an e-mail: info@tallykey.dk (expect our response within 24 hours).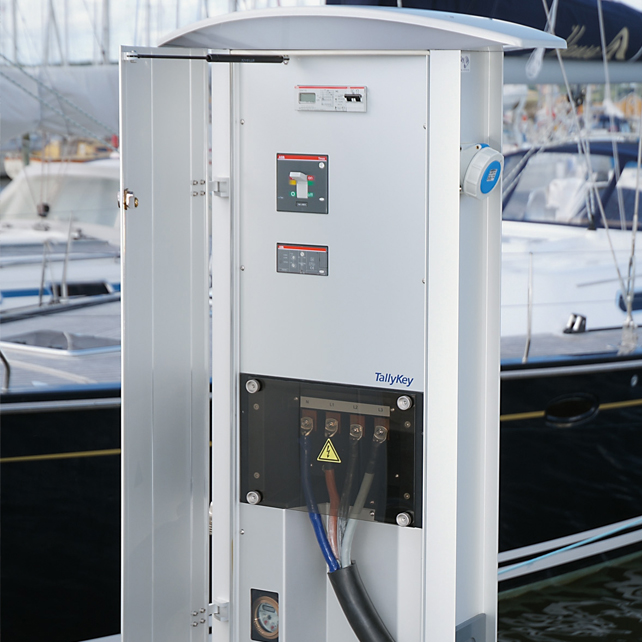 Just like the rest of the family, the T8 is built in anodized aluminum and assembled with acid-proof bolts, shafts and screws.
The T8 stand meets all EU standards. Electrical devices such as relays, meters, etc. is well protected behind aluminum and impact-resistant plastic. All relays are individual closed circuits
Ensures healthy operating finances
The T8 stand has built-in energy-saving LED lighting under the curved aluminum top, which increases safety on wharves, parking lots. Users can settle consumption of electricity and water via online self-service, which is a big saving on administration and ensures you a healthy operating economy. Several stands in the same area can communicate data with each other – just as stands at locations spread over a larger geographical area can be linked together in one system.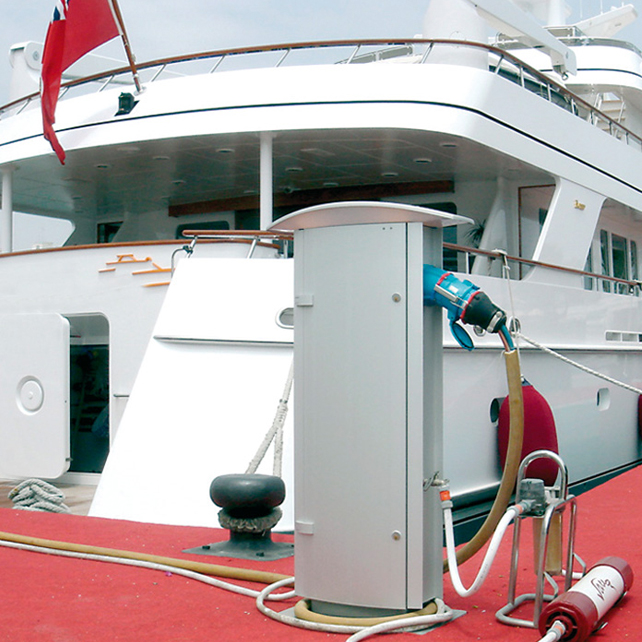 Welcome

Here are seven good reasons to choose Tallykey.