Digital solution in 18 hours
Payment machine break-down:
Digital solution in 18 hours
Last Summer the payment machine broke down at a marina in central Copenhagen, the capitol of Denmark. Neither guests nor regular users were able to pay for water, power, showers, laundry, or berth tax.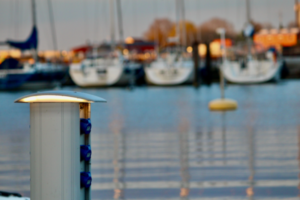 "It was a disaster. The payment machine gave up in the middle of season – just as the marina was to see the bulk of its annual turnover".
Torben Falholt is a board member of Langelinie Yacht Club. He joined forces with a fellow member managing a swift, yet long-lasting solution which turned out to be a digital upgrade of 18 T6 supply pedestals servicing the marina yachts.
"We reached out to the good people at Tallykey and I am not kidding you: Within a day or two we had the most simple solution, TALLYWEB. Regular users as well as guests can pay for utility consumption and rental fees from their smartphone. On top of that, we have reached our vision – downsizing high-tech and electronics in the marina to the least possible saving us from future failure and break-downs," Torben Falholt explains.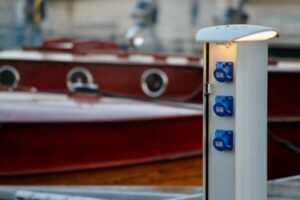 At Tallykey headquarters, Head of Customer Service Ivan Juul Simonsen and Head of Sales Denmark Morten Jørgensen provided a swift solution to the failed payment machine in the Copenhagen marina. Their efforts on this task produced a digital solution up and running in a matter of 18 hours. Customer service of this level caught the attention of many.
"In a critical situation, we experienced incredibly easy cooperation from Tallykey. We receive nothing but positive reactions from yachtsmen who are thrilled by the flexibility in a digital payment solution allowing us to monitor usage and settle payments from a mobile device whether we are on deck in the marina or sitting on the sofa at home," says Torben Falholt.
The digital solution turned out to be a positive business case, Torben Falholt also concludes:
"Our marina is small with limited resources and our harbor master has limited time available. I can assure you we lost a significant amount of turnover in the past due to unpaid usage and taxes. Now it is straightforward. Pay on your smartphone and you will get access to power, water, berth, showers, and laundry".
Sign up for Tallykey's newsletter
…and receive lots of exciting news and case stories directly in your inbox